Karen Mack pulls the steaming lasagna out of the oven. As she does so, she turns to Nora, the international student standing next to her, and explains how to tell if it's done. This is Nora's first time making lasagna, but she says it won't be her last.
"I first started cooking with internationals when we hosted our first IFI student from China about 10 years ago," says Karen. "I was looking for ways to share American culture, and since I love to cook, it seemed like a natural way to include the student in American life." As they made cheesecake together, Karen realized that cooking together also opened up conversation with the student and provided an opportunity to learn what she loved to do too.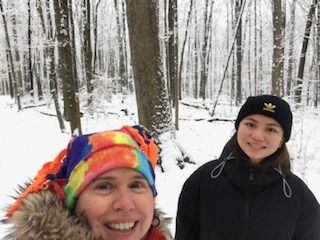 Since that experience, Karen began to look for ways to incorporate cooking into the relationships she was forming with students. Besides lasagna, some of her favorite recipes to make with students include cut-out or drop cookies and breads. "I love to make bread from scratch," she shares. "I even grind my own grain. So I include my students in my baking day."
In addition to cooking American recipes with her international friends, Karen has asked them to teach her how to cook foods from their cultures. One of her favorite memories is learning to make pull noodles with several scholars and one of their moms who didn't want to be left out of the fun!  "We had many laughs," she shares, adding that the traditional beef pull noodle soup was especially delicious. She's also learned how to make dumplings, scallion pancakes, chicken wings and many other dishes.
"Include them in what you are already doing."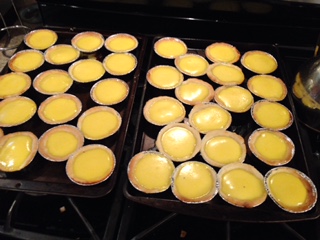 When asked to give advice to volunteers who are just starting to cook with their students, Karen says, "Include them in what you are already doing.  If you invite them over for dinner, include them in what you are making.  Even setting the table is a learning experience as we may use different utensils." She also recommends asking your student what foods they miss eating. "Some of my students were missing eating egg tarts from home. I had never made them, so I found a recipe online and we learned together! They turned out delicious." What a wonderful way to show love to our international student friends!
During COVID, Karen took the opportunity to provide a service to students who were stuck at home by offering a virtual cooking class! With the help of her student helper, Nora, Karen taught each step of making lasagna on a live Zoom call.  Students were able to tune in and follow along by cooking the dish at the same time as Karen or just watching and asking questions. This is something she hopes to do in the future to share her love of cooking with internationals even during this time of more limited face to face interaction.
"We all need to eat, so this has been a fun way to spend time together…"
Looking back, Karen sees how cooking has been an easy way to include internationals in something she already likes to do and also a way to help them learn new life skills. "We all need to eat, so this has been a fun way to spend time together without adding anything extra to my schedule." What talents do you have that you could invite an international student along to share?