Kim has volunteered with IFI in Columbus for years, picking students up from the airport and hosting students in her family's home. Kim loves doing all these things. In fact, she's a good picture of what life as an active volunteer can be like, even with health setbacks.
Got a story to share? Email it to !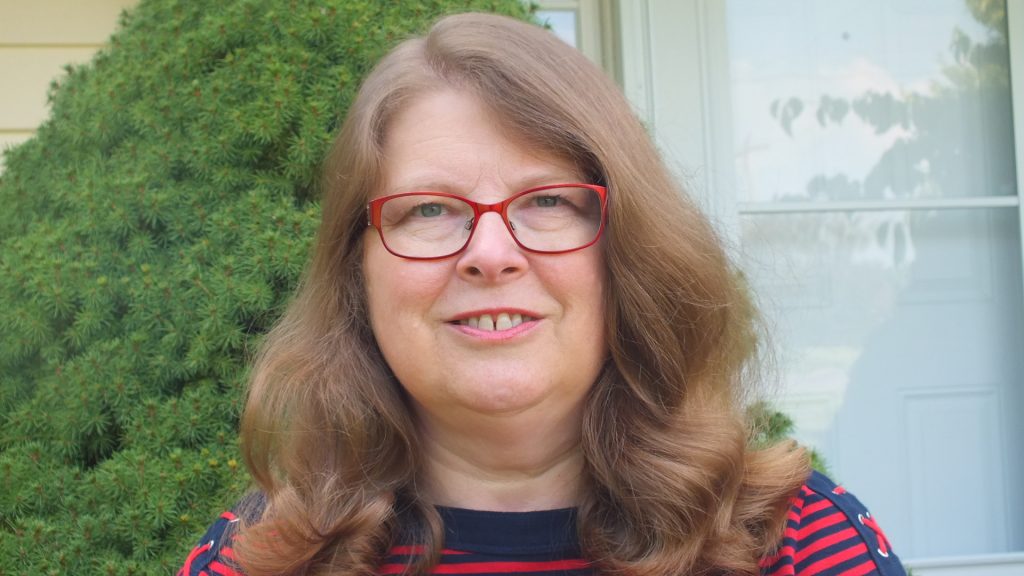 Kim has a medical condition that leaves her chronically fatigued. As she serves international students, she keeps a balance of rest and quiet.  In hosting, Kim is more out of her comfort zone than most IFI volunteers!
A few years ago, Kim wrote a personal blog to show what God can do through a willing volunteer, setbacks aside.
August 16
This is a quiet end to a really full day.  Earlier today, I'd moved two of our guests into their off-campus apartments.  Our time ended well, with their grateful hugs and my assurance to stay in touch.  Now, on to a new adventure!
Late this afternoon, X arrived, looking very tired.  He'd called from Chicago to let me know his plane would be late.  On our 30-minute trip home, I asked if it were okay to stop for groceries, for I hadn't had time for shopping.  Even though he was quite tired, X was willing to go into the store with me. I bought a few things; he bought some beverages.  As we headed home, I learned that X is from Inner Mongolia, a northern province in China. He is culturally Chinese but ethnically Mongolian.  Because he'd attended high school in California, his English is good. At OSU, he may major in business or computer engineering. I enjoyed talking and listening to him; our conversation was easy and relaxed.  When we got home, Tom [Kim's husband] took X's bags upstairs to the guest room. X wanted a shower and rest. He got both. Today, the Lord gave me the energy I'd requested. Tonight He graced me with a quiet evening while X. rested.  We'll see what tomorrow brings!
August 17
This morning, we told X. we planned to attend church and invited him to go with us.  He said yes! Today's service focused on the testimonies of new Christians who would be baptized today.  We heard several stories of changed lives. Then we all gathered on the patio for baptisms and burgers. Several of our church friends sat down and chatted with X over lunch, helping him feel welcome.  I don't know what went on inside X. during the church service. Trusting that God has planted seeds, I will pray for X. We spent the rest of the day relaxing. As part of our dinner, X prepared special Chinese noodles he'd brought with him.  Yum!
That evening we would welcome two more students to our home.  Our 7:10 p.m. airport pickup was uneventful–a good thing! I loved seeing Z's big grin as he recognized us!  Z was hungry, so we stopped by KFC. Shy and quiet, Z especially enjoyed our dog and two cats.
Another IFI volunteer would pick our third guest up and bring him to our home.  After dinner, she emailed that their flight was delayed. After the arrival time–quite late by now–the volunteer called: the flight had arrived, but our guest wasn't on it!  Plan B: Shannon, another volunteer, would wait for the next plane, due in at 2:00 a.m., and take him to her home. The upshot of this story–and what is worrisome for volunteers–is that we did not hear from this student or the female student who accompanied him for many days!  
I think we should regard such frustrations this way: We are serving our God, and He is pleased with our efforts, regardless of the outcome.  Many things can go wrong as we serve internationals. God invites us to learn flexibility.
August 18
We needed to be on campus early, so I served easy breakfast foods.  X had to get his bags to the dorm and go to check-in. I'd learned that check-in would be very busy, with long lines all week.  Z came with us so he could do some business on campus, too. (Part of this volunteer experience is providing part-time taxi service for guests.  We volunteers can choose how much we do. I happened to have some expendable time today for these things.) I waited as X ran his luggage into the dorm, then took him to the Ohio Union.  Finally, I dropped X and Z off at the Ohio Union and gave X a goodbye hug. Z and I arranged for me to pick him up at the same spot later in the afternoon.
I decided to drop in on Nathan at IFI to introduce myself and to discuss the lost student.  We still had not heard from the student, and it was quite concerning.
As the day wound to a close, Z and I arrived back at the house, I made dinner, and there was time for peace and quiet.  Since Z would move into his dorm tomorrow, I reviewed the IFI brochure with him.  Remembering his email request to discuss God and the Bible, I broached the subject.  He didn't seem to know what to say, but simply asked, "Who is Jesus?" WOW! I gave my best description of God the Son, who came to earth to show us God, who lived a sinless life, and who took our place when God punished all sins so that we can know God–big concepts for him to digest!  I took another step of faith and gave him Dennis McCallum's book, Discovering God, translated into Mandarin.  He looked over the book with intense interest and said, "I'm going to go upstairs and read it now."  It sure helped to have this book available! I will buy a replacement copy soon!  
Shannon called later about the missing students–hers and mine.  Nobody had heard from either of them. I think even though this was frustrating for us, she seemed concerned for the students, more than anything else.  That's what I love about these Christian volunteers!
August 19
Z wanted to get to campus for 9:00 a.m. check-in at the Union, and I tried to accommodate him.  However, our "quick" breakfast and last-minute photos put us a little behind.
We volunteers do our very best to help the students, but we have our limitations.  I've found that telling my guests that I have difficulty with sleep and waking in the morning helps them to be more understanding and less self-centered.  After all, we are disrupting our entire household to minister to them. I should add that I have learned many of the students want to help or to "give back" by doing the dishes or other chores.  One of our guests, D, found me weeding the vegetable garden and offered to help. Of course I accepted! He explained that as a city dweller, he found helping in the garden a novel experience, and he enjoyed doing it!  Some of our guests have said they'd like to help our other guests to get a bank account, set up phone service, show them the campus, where to buy textbooks, etc. I get excited when I hear such generous offers! It means that some of our efforts have made an impression.
During our final trip to campus, Z and I planned how we'd continue our cross-cultural friendship.  I told Z that after classes begin, I go to the Ohio Union Marketplace weekly to meet with my students and would like to visit with him, if he's interested.  I also mentioned our family's plans for fall, such as the Mid-Autumn Harvest Festival party at our house and other activities. I drove him to his dorm and asked if he would like me to help him take his bags in.  He wanted to go in by himself. I gave him a hug and said goodbye. I hope to see him again soon. I will continue to ask the Lord to open his heart to eternal matters.

PS: The volunteer who originally was to pick up our third guest at the airport and I emailed the lost students several times.  Finally our student replied to the other volunteer. He said he arrived safely in Columbus and is fine. He apologized for not replying earlier, saying he became very busy on campus.  We still have no clue as to what happened between Dallas and Columbus or when or how he arrived. He never answered me.
I believe that the Lord simply wants us to serve Him  faithfully. We won't always see the results. Unfortunately for the student, he missed out on a really meaningful opportunity with an American Christian family!