When deciding how to spend time after retiring from career or working life, what comes to mind? There are expressions commonly shared with retirees, such as "You deserve to relax and enjoy life." "You can enjoy more time with family, be your own boss, travel and do what you've always wanted to do." These expressions certainly contain some truth but seem inadequate when compared to Jesus' higher calling for his followers. 
Followers of Jesus can live lives contrary to the rest of the world, including retirement thinking. Instead of viewing retirement as solely for relaxing or de-stressing, consider why and how to devote time to serving others more fully. Be encouraged by the stories of 3 current retirees serving IFI today in significant ways in their retirement! 
Be Willing to Let God Use You in New Ways: David's Story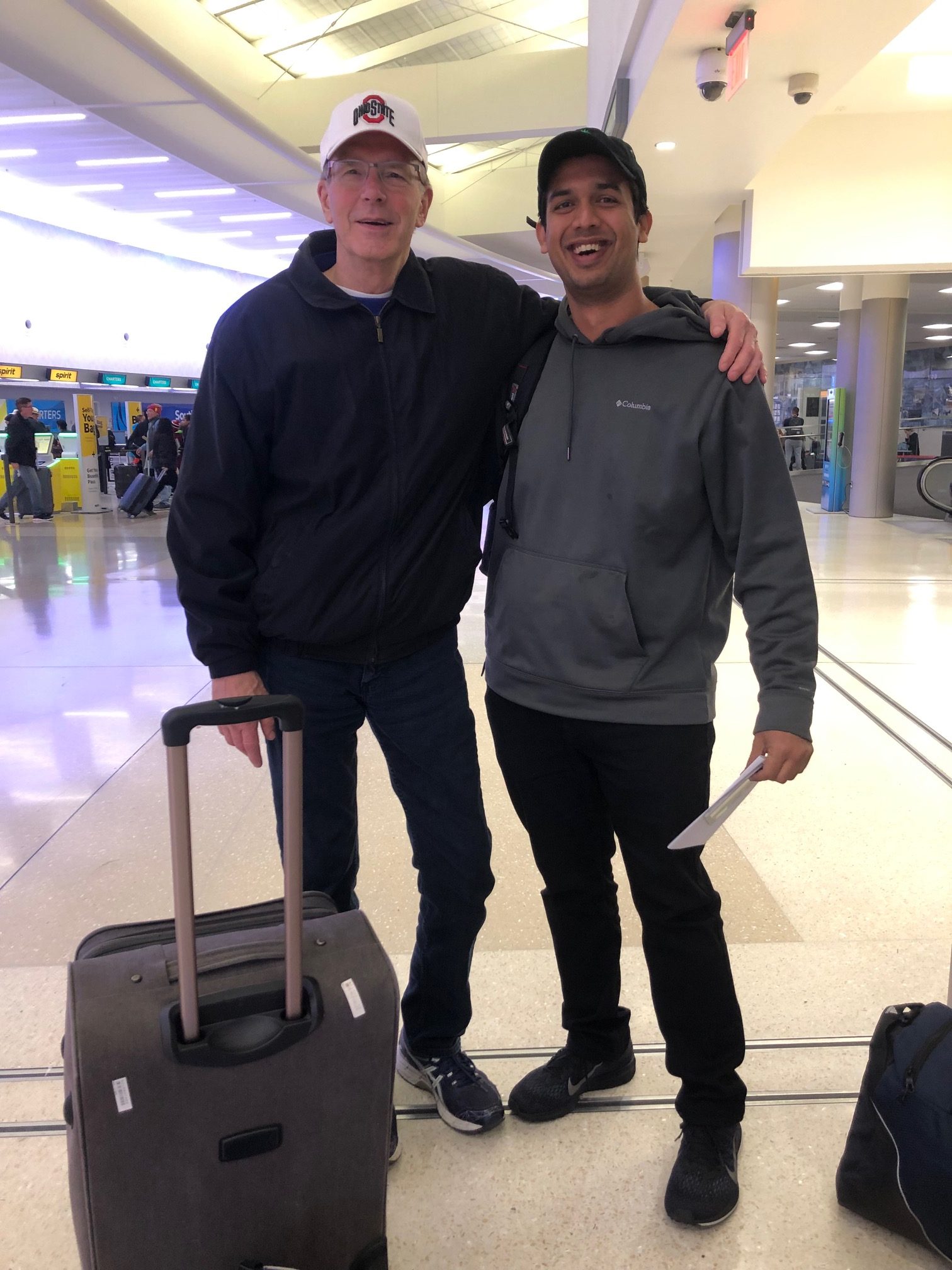 David Albright had worked for 30 years with General Motors in Dayton, Ohio, while serving as an associate pastor and counseling minister with his local church. He and his wife, Charmaign, moved to Columbus to help plant a church. David worked several jobs to help finance their son's college education, including in a state of Ohio position from which he retired in 2011. At first, David enjoyed his flexible time to try new things, but then he wondered what he might do to serve others.
"It was Charmaign who urged me to become involved with IFI," said David, as their church had several members serving or who had served as volunteers.  
David began airport pickup and served as a conversation partner for IFI in 2013, and felt satisfied with these roles. Before long, however, he experienced God's call to deeper involvement. One day, David was conversing with his conversation partner, a visiting scholar from China, at the Ohio Union. The scholar was approached by another IFI volunteer with Rich Mendola, IFI's CEO. While the volunteer and scholar started a new conversation, David and Rich began to get to know each other. "When Rich learned about my pastor and counselor experience, he remarked 'You need to join our staff!'" laughs David. 
David took the advice. In July 2014 he embraced volunteering in the staff role of an associate campus minister with the OSU Columbus Team. Currently David meets individually for weekly conversation with two PhD students from South Korea. He disciples a believer from China, who is earning his PhD in chemical engineering at OSU. He also mentors a former intern who has joined IFI staff as a fulltime campus minister. 
When students meet at their home for discovery Bible study, David considers Charmaign invaluable at helping students to feel welcome with her hosting and home-cooked meals. Recently, Charmaign joined David in retirement and now meets on a regular basis with a student from Indonesia. 
David's advice to new volunteers is to relax and trust the spontaneity of the Spirit to use you in new ways that will surprise and enrich you!  When asked about the future David replies, "I don't have a long term vision at age 73 except to continue to love and serve internationals with the passion and strength the Lord provides."
Fill a Needed Role: Theresa's Story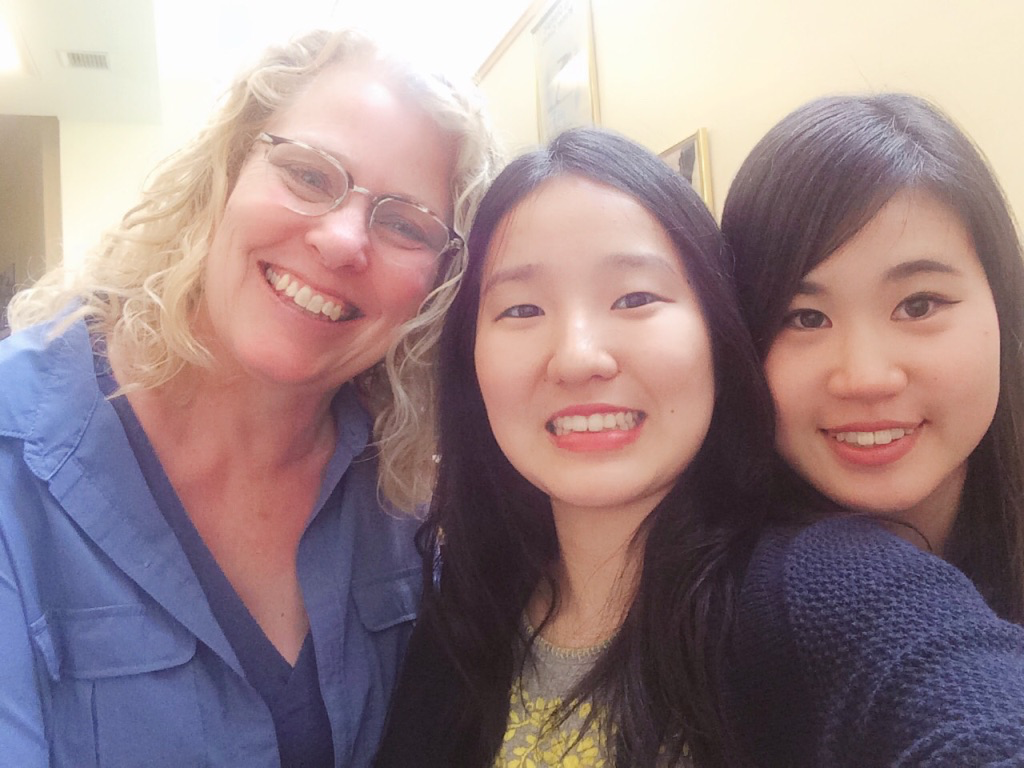 When her part-time teaching position at a Christian school ended in June of 2015, Theresa Moon had some newfound time. Yet she felt tension about what she should do next. That year Theresa's husband, Matt, received a promotion with a pay raise equaling her part-time teacher salary. "It seemed a sign that God had things for me outside of a paid job," Theresa recalls.
Theresa first involved herself with IFI after hearing Rich Mendola speak in 2014 about hospitality. She remembers being captivated by his talk on using hospitality to reach the nations. "I'd had some contact before with international students when friends brought their conversation partners to events at our home, but had not taken a volunteer role with IFI myself," she shares. Theresa soon completed IFI's volunteer training so that she and Matt could host students for holiday dinners. 
After her teaching position ended, Theresa also began to take on conversation partners from Ohio Dominican University (ODU)'s English language school. She has valued the friendships formed through conversation with international students. Theresa realized God grew her desire and abilities to help students while she gained experience in volunteering. 
When asked in 2017 if she would consider serving as IFI's campus contact for ODU, Theresa said yes to the additional responsibility. She continues to volunteer in this staff role today.  Although the pandemic prevented in person discussion groups, Theresa has connected with a former student and the student's cousin in China for an online Bible study. 
Theresa wants volunteers to know that students are interested in learning about them and their culture, and they feel loved when volunteers express interest in them, their families and studies. "Most students have responded very well to Matt's and my prayers for them specifically. This is a very powerful tool God gives us," she adds.  
Plan Your Retirement for Serving: Sue's Story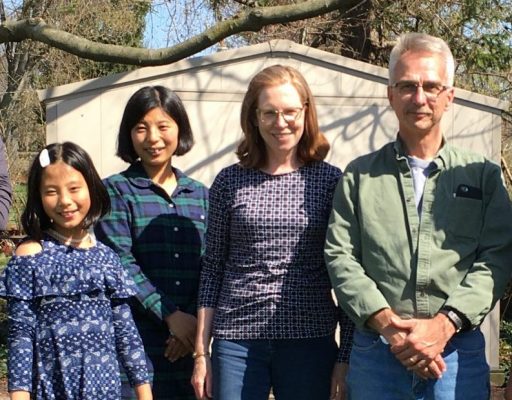 Sue Kroeger began to volunteer with IFI in 2007, after learning about IFI from a friend at church. Soon she and her husband, Keith, and their children, hosted two masters students from Taiwan for Christmas. The female student invited Sue to meet her at the IFI Bible study group she joined weekly. After that Friday in January 2008, Sue and later Keith became regular volunteers, ultimately focusing on programs for children who attended the group with their parents. As much as she wanted to help, Sue's full time job and other responsibilities would leave her feeling tired most Fridays. Over time, God grew Sue's faith for enough stamina for each Friday night. "Once I arrived, my end of work-week fatigue did not last long," she notes.  
Befriending international students and serving with IFI became so beloved that Sue made plans to retire from her environmental law career to volunteer more. She considered her work with the Ohio EPA important but felt drawn to find time to support IFI's mission in showing hospitality to students out of reverence for Jesus. Conversing with Ryan Finke, IFI's Communications Director, inspired Sue to consider a part time role with IFI's national media team. 
So after 31 years of government service, she began in January 2020 volunteering with the IFI team. She gathers content for student impact stories, volunteer engagement stories, and cross-cultural training, among other tasks. Sue is glad to now be able to help with a weekly international moms group and to meet with conversation partners during workday hours.  While Sue misses her career work, she enjoys learning new skills in her staff role and using newfound time from retirement to show God's love to international students as part of IFI's mission.
How would you like to serve? 
Identify your interests, skills, and availability — and consider partnering with IFI in ways that use your gifting. There are a variety of ways you can partner with IFI with your time and service, as described on IFI's webpage: https://www.ifipartners.org/get-involved 
Here are examples of ways volunteers can partner with IFI: 
Pray! Join a prayer team that intercedes in all aspects of IFI ministry

Plan events, outings, service projects, trainings or outreach

Work on the IFI building or grounds

Be a friendship or conversation partner or an ESL helper

Collaborate on a Campus Ministry Team that connects with a particular university

Help IFI expand to other campuses

Provide airport pickup, temporary housing, holiday hosting, or all three

Help with Bible discussion groups or wives/mothers/family groups

Be part of a team involved with an IFI function, such as development, marketing, human resources, information technology, communications, social media, website design or maintenance, finance, accounting or bookkeeping, or administrative support.
Have you prayed for God to open doors to use you in new ways to serve? How might you align your retirement plans to his purposes? Consider whether God is directing you to volunteer with IFI in some capacity — the opportunities for serving are many!