Isolation, loneliness, and feelings of low self-worth are common struggles faced by international women who have accompanied their families to the USA. Often, while their husbands or children are studying or working, international wives and moms find themselves at home without many opportunities to practice English or make friends.
Thankfully, many American mom's and wives have risen to the challenge to show hospitality and friendship to these international women. Not only have these international women benefited from new connections, but the local moms and wives were blessed too!
Over the past two decades in Columbus, Ohio, IFI volunteers including Leila, Rebecca, Sara and Beth (among others) have launched and facilitated weekly gatherings for international moms and wives – even persevering online during COVID. We are so thankful for these volunteers who continue to offer meaningful friendship to international wives and moms!
Support for Wives and Moms Before COVID
WIVES
When able to meet in person, the Wives' Group focuses on women in their married life and consists of shared lunch, conversation, and Bible discussion.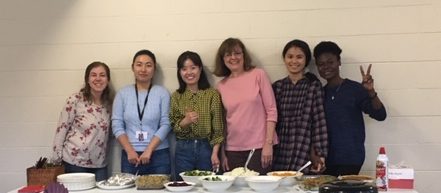 "Our group is a place where the wives of students can feel comfortable speaking in English and sharing their questions and concerns," explains Rebecca Sermon who has led the group since 2011.
The women dialogue over lunch on what they are thankful for and what has been stressful or difficult from the week. Icebreaker questions help everyone get to know each other. After lunch, Bible discussion begins in small groups. The Wives' Group has also done special activities together like crafting or trips to Cleveland.
"Periodically we cook special foods together, both from the US and from their cultures," adds Rebecca.
MOMS
Serving a similar but slightly different demographic, the Moms' Group provides an opportunity for moms to gather and talk while their children enjoy supervised play in the children's room.
The women share their prayer requests and pray together as a group before discussing a Bible passage in a format like the Discovery Bible Study. Separate groups for the Bible study accommodate different levels of English conversation ability. Women then spend time chatting one on one or in small groups with other moms before their children return for snacks and playtime at the end.
"I was quite impressed by the level of community within the group and the love of God that was practically demonstrated by the believing members," says Sara Gillette, who has volunteered in the group since early 2019 and moved into co-leadership soon after.
"I wasn't planning on leading. But I could see how the Lord was moving in the group and in my heart for internationals and I wanted to join in what God was doing."
The Impact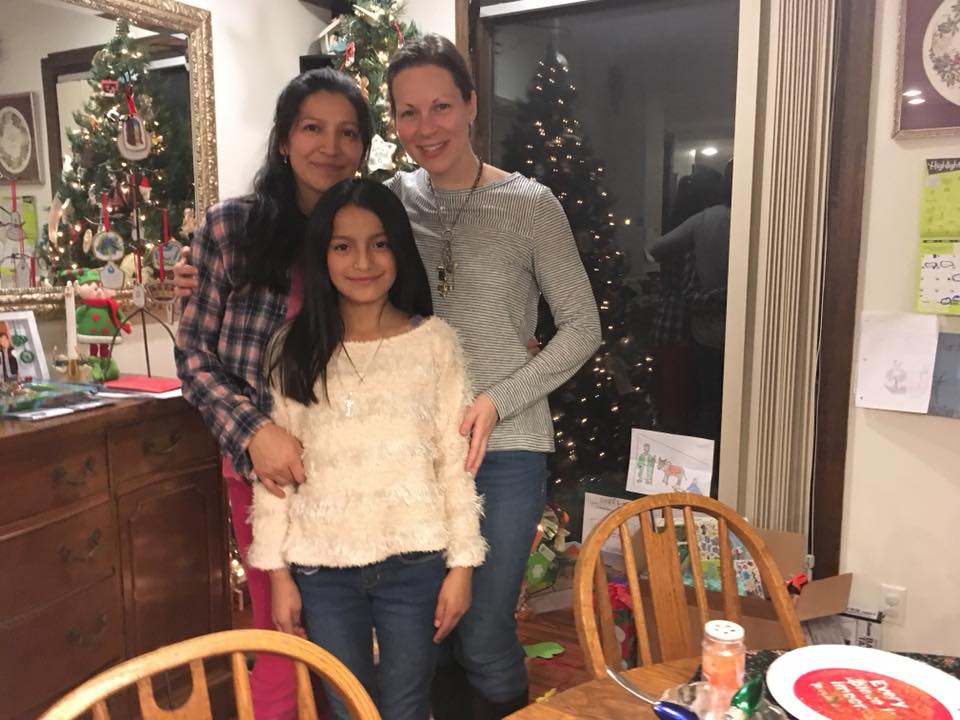 Both the Wives' and Moms' Groups in Columbus have been instrumental in sharing God's love with women from cultural backgrounds as diverse as China, India, Japan, Taiwan, Turkey, Ireland, Italy, Nigeria, Brazil, Ecuador, and Saudi Arabia.
"Moms connect in so many ways, no matter what language is spoken or our home culture," says Sara. "There is a lot of common ground to make connection easier."
Pamela, from Ecuador, shares that when she first attended the Moms' Group she was very nervous.
"I didn't know them or their activities and the language at that time was hard. But I was looking for friends because I didn't want to be alone."
Her fears were abated after experiencing the kindness of the volunteers.
"All the ladies were very nice and talked slowly so I could understand them."
Studying the Bible and growing her vocabulary from the English group has been a blessing to Pamela, as has learning about other cultures. Pamela feels confident she can ask the other moms for advice when something bothers her. She knows she can count on the friendship of the group and considers a volunteer one of her closest friends. "For these reasons I wait for every Friday to enjoy the group."
Rebecca shares about one outing that impacted her and the ladies.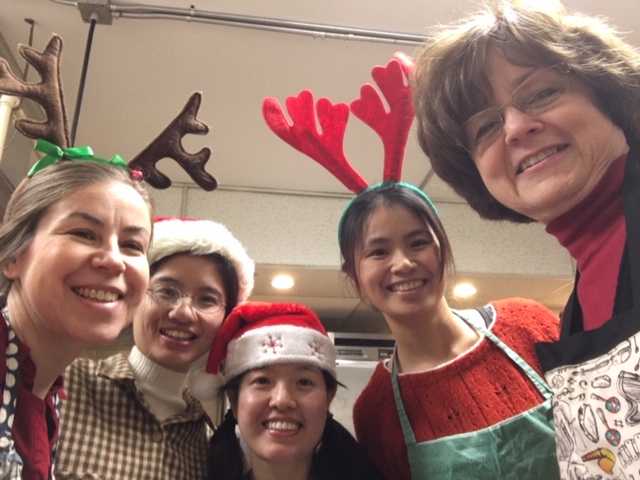 "Several years ago I took a group to my mom's house in Delaware. My mom is a crafter, and was clearing out her supply of fabrics, craft items and magazines. Although only one of the ladies was actually interested in crafting, the other four went because it was something to do and fun to spend time together."
"My mom so inspired them that they all ended up taking a supply of magazines and craft items home. They began to meet together every week to sew and create together." Rebecca says that through their weekly meetings sharing life with one another, two women shared what following Jesus looked like. Four ladies decided they too wanted a relationship with Jesus that year.
The impact has stretched beyond the women who attend these groups and expanded to touch the leaders as well.
"How much I benefited from Moms' Group initially surprised me,"
shares Beth Gass, who co-leads the Moms' Group with Sara.
Beth and her family had recently moved to Columbus and she was interested in helping the group.
"I was experiencing some significant reverse culture shock after living overseas for five years and I also needed new 'mom friends.' The group has allowed me to make friends with both international moms and local moms who have an international focus."
Continuing Despite COVID
Although wives and moms alike wish they could meet in person as they have in the past, there have been some unexpected benefits of continuing the groups online. Sara notes surprise at the group's improved interactions in the virtual meetings.
"I did not expect our international moms to have the same level of interaction; actually it may have increased!"
Sara says the moms seem more comfortable asking questions on the Bible passages. Beth has been encouraged by the faithful participation this past year. "The women have been hungry spiritually and have often returned for the Bible study specifically, not just the time together."
Rebecca has also seen benefits of moving to virtual meetings with the Wives' Group.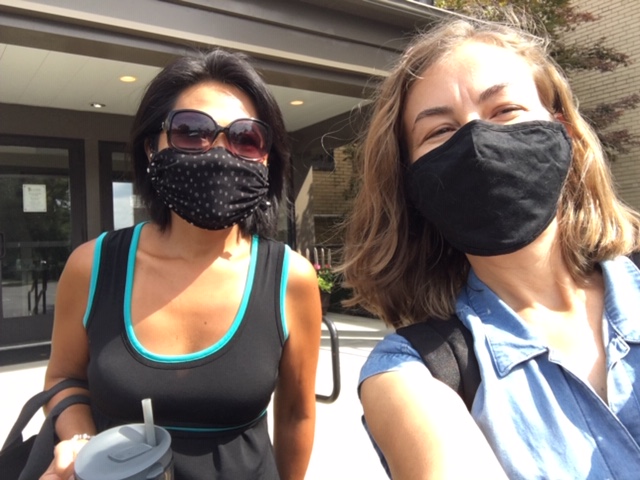 "One unexpected blessing was when one of the ladies who had been part of the group during Fall semester and had returned to China was able to join us sometimes, though the call was very late for her," she remarked.
Sara adds, "I am excited to see if the Lord is moving to create more connections in this way using virtual studies."
Yan, an international mother from China, gives a few reasons why she continues to join weekly even during the months the Moms' Group has met virtually.
"First of all, I've learned a lot about Jesus! Second, I've made great friends and this makes my life in Columbus more attractive than my isolated time in Texas. Third, the Moms' Group has given me good advice on raising my daughter."
Stories like these confirm that God is continuing to work through the groups, even in the midst of the pandemic.
The Power of God through Faithful Volunteers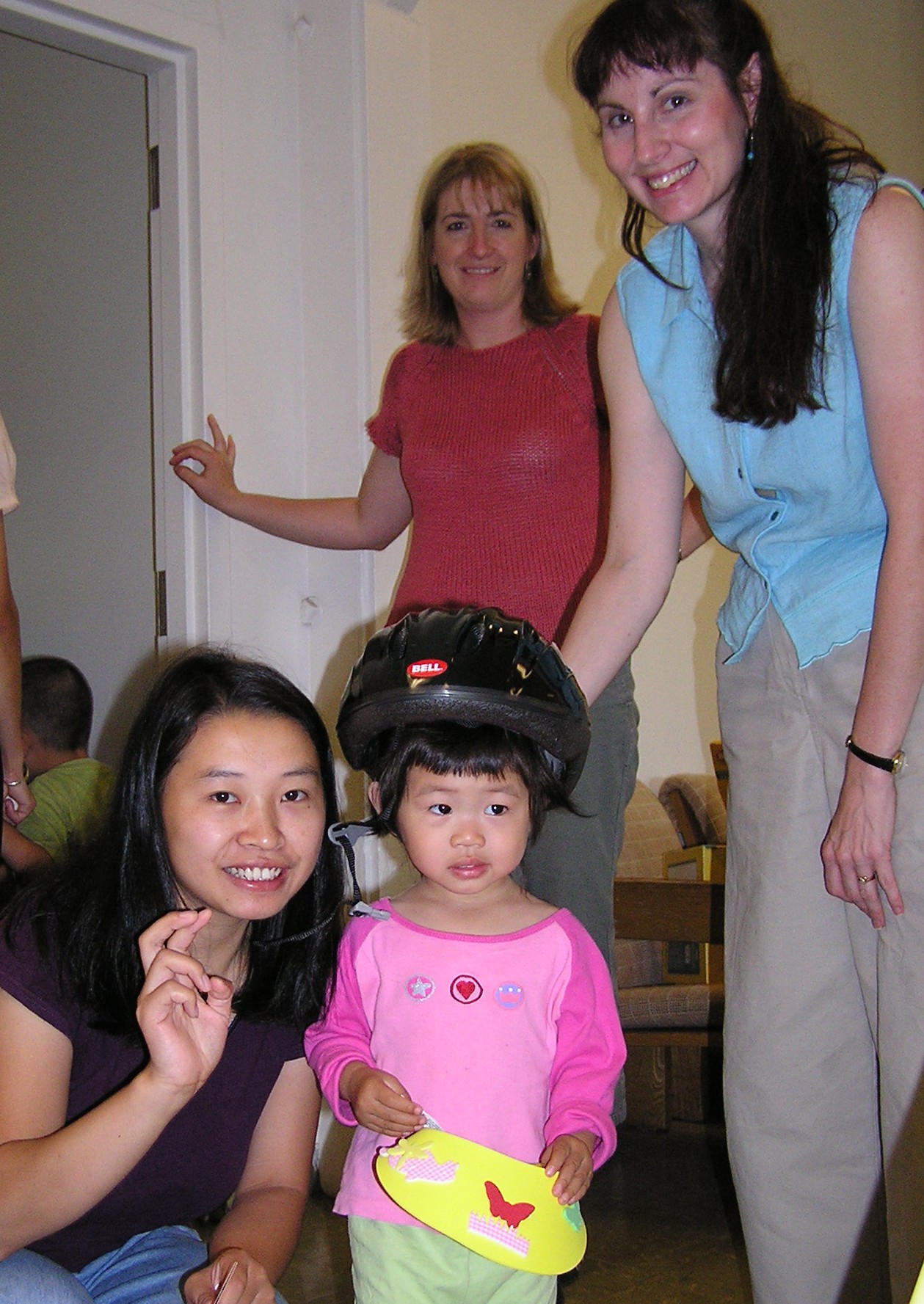 The Wives' and Moms' Groups are a testament to what is possible when volunteers with hearts of service come together to uplift and encourage women of different nationalities.
These groups have been led and supported by a variety of IFI volunteers over the years. They have changed and flexed with the times. No one person can be attributed with the groups' successes. Rather, they are a picture of how God works through different people over a span of time to accomplish his purposes. If you are a volunteer who has invested in one of these groups over the years, IFI thanks you for your faithfulness!
Do you want to serve international moms or wives near you? Contact your nearest IFI location!