Do you want to build friendships with international students but find your busy schedule, existing commitments, and life routines often prevent you from having enough time? What if these are the very things you can invite international friends into? Here are 3 tips and stories from IFI staff and volunteers who have discovered the power of simply sharing their normal, everyday lives with students.
1: Invite international students to join you to do things you are already doing
You don't have to do anything you wouldn't normally do to serve students. Jim Gifreda, the area leader for IFI Cincinnati, says "with virtually anything I do, I would consider inviting a student to do it with me." Students often join Jim on hiking trails at parks around the Greater Cincinnati area, camping trips, Frisbee golfing, and visiting different churches, which have led to three ongoing groups. Jim recommends including a stop for coffee, ice cream, a meal, or the like, to extend your hangout time and help relationships flourish.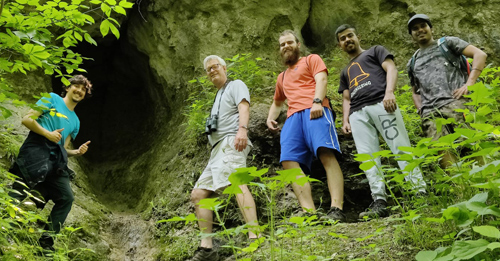 Even mundane errands and events from your everyday schedule can serve international students. For example, invite students to go grocery shopping with you. Many students do not have a car, so a ride to the grocery store meets a practical need for them, allows you to get your shopping done, and provides opportunities for conversation while you shop together. If you take them to ethnic grocery stores, ask them to tell you how to cook some of the foods you find there and teach you how to prepare one or two of the student's favorite dishes.
For example, on a recent Saturday Jim realized he would be alone for dinner. "After my day's work and helping a student move some furniture, I didn't feel like making something to eat. So I texted a half dozen people about dining out with me. Four of us had a good time over our evening meal at a Japanese steakhouse!"
Making plans to meet up for even a short lunch break on or near campus is another opportunity to build relationships with students. If students will pack their lunch, pack yours, too! Jim notes that, when inviting a student to join you in a normal life activity, you want to act normal as well. "Don't be someone you're not."
2: Realize your lifestyle and activities are more interesting than you think
Xia Shen, who came to the US from China, found that Americans would underestimate how special and different a lifestyle they are living in the eyes of international students. "I personally find places such as craft stores, art studios (those where you make or do your own artwork like potting, painting), pick-your-own berry farms, plant nurseries, and Christmas tree farms FASCINATING!" Xia enjoyed discovering the fun things her host family and American friends like to do and accompanying them on these outings. She remembers the fun of simply touring her host family's house and backyard farm. Xia shares "I once was invited to watch a regatta with my host family because their daughter was part of a rowing team. The experience gave me a very 'I'm included' feeling."
"The experience gave me a very 'I'm included' feeling."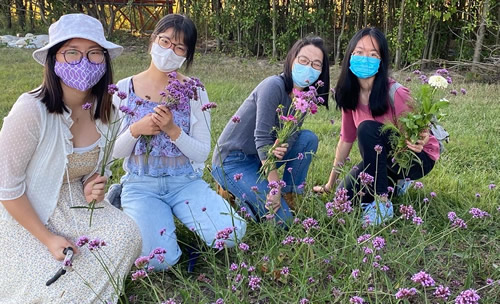 Now on staff with IFI in Columbus, Ohio, Xia draws on her experience as a student to brainstorm informal outings that students can join her in doing. "I love exploring nature and bicycling, so I invite students to join me on walks, hikes, bike rides, and flower picking, to share my life with them." Xia likewise draws on her love for crafts by hosting creative do-it-yourself activities such as egg painting, rock painting, and Christmas tree decorating.
Similarly, Jim notes how surprised he is at what activities students want to do with him. Students have joined him for yard work, helping with an IFI event, and playing games or sports. "Badminton is a big hit at my house," he notes. When planning the day's activities, Jim says to himself, "would 'so and so' want to go with me?" Jim calls or texts students, but doesn't make his invitation into any big event.
Asking questions also allows you to learn the student's perspective on the activities you do together. Questions can be as simple as "do you do similar things back home?" Xia remembers her Pakistani friend thanking her for bike riding with her, because she had been prohibited from riding bikes back home. "Try not to assume what you consider 'normal' to be 'normal' as well for internationals," adds Xia. Your conversations with students will help them to feel understood as they share their viewpoints with you.
3: Allow conversations to happen naturally
Remember the point of spending time with students is to be their friend. Jim advises against forcing conversations during outings. He says, "If you act as if this is the only opportunity to talk, you may put pressure on yourself that can make conversation awkward. Be relaxed, and save some conversations for later."
Messaging apps, such as WhatsApp, WeChat, and Line, can help you to stay connected and build relationships with international students. You might let students know that you are thinking of them. You might tell students what God has been showing you in your personal time with Him. In this way you invite international students into your life with God. You might also let students know how much you enjoyed hanging out with them during that recent game night or time swimming at their apartment complex's pool.
Inviting friends to join you in the things you do can influence them more than you realize. Alexa Hudson, who has volunteered for several years with IFI in Florida, remembers her first friendship partner, Lou, a graduate student from China. Alexa had invited her to a game night with some church friends. That evening it was brought up that the church would have a 24-hour Day of Prayer the following week. As Alexa signed up for an hour time slot, Lou expressed interest in learning how to pray. Alexa recalls, "I was really excited about Lou's interest in prayer as I wasn't expecting it. Lou also said yes when I asked if she would like to join me during the prayer event!" In preparation for the event, Alexa gave Lou a Bible with a note describing why she reads the Bible and how and why people can pray to God. Alexa shared about Jesus and what he has done. Now six years into their friendship, Lou notes how special it has been for her to have Alexa as a long time friend showing her what it means to follow Jesus.
Any meeting with students, whether a two-hour bike ride, a 30-minute lunch break, or a quick walk in your neighborhood, says you care enough to take some time just for your friend. Students sharing in activities from your life can likewise experience grace from God, who has shown his love to you. Which student will you invite to join you in an activity today?