IFI seeks to offer cultural activities specific to the students it serves, whether Chinese, African, Middle Eastern, Indian, Latin, or a variety of others. For Indian and Nepalese students in Columbus, IFI has formed the IFI Indian Friendship team. This team is especially important because U.S. universities have seen an influx of Indian students compared to earlier years. Danny Walker, Somita Bucklew, and a number of other passionate IFI volunteers serve on this Friendship Team.
The IFI Indian Friendship team hosts Indian-focused large events such as the India Independence Day event (a national holiday in India celebrating the nation's independence from the United Kingdom), the Holi event (an ancient Hindu festival, also known as the Festival of Love, the Festival of Colors, or the Festival of Spring), and the Diwali holiday event (a festival of lights that is one of the major festivals celebrated by Hindus, Jains, and Sikhs). These are South Asian events with food and fun for everyone. Often these fun IFI events will include a short message about Yeshu (Jesus) where students learn that following Jesus doesn't mean that they have to depart from their culture and that they can actually use their culture to honor Him.
Events like these are very important for international students and scholars. A scholar named Raj* and his wife, who were both new to America in 2021, became very lonely. Raj's wife became especially lonely because she was not in school and was not eligible for employment. She was very happy to meet people, including Danny's wife, at IFI's India Independence Day event. Danny has found that many students and their families, just as Raj and his wife, are very appreciative of the chance to meet people and make friends at IFI events. They can see the joy as a dance party typically breaks out and they often receive many "thank you's" from those in attendance.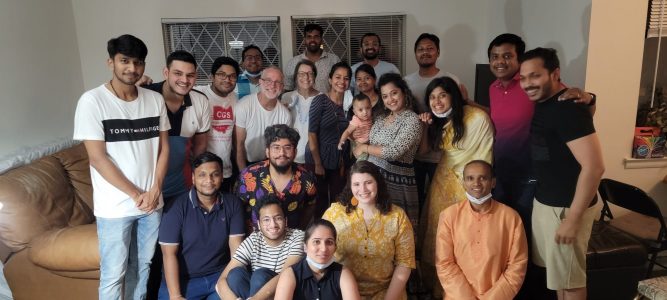 Another unique Indian cultural tradition is the Satsang, which can be translated to mean "associating with good people" or simply "being in the company of truth." Satsang refers to the act of gathering with like-minded, uplifting people, especially those on a spiritual path. The IFI Indian Friendship Team holds a "Yeshu Satsang" every other Saturday where Indians of many different faiths gather together centered on Yeshu (Jesus). Typically all in attendance sing praise songs to Yeshu in Hindi or another of India's many languages. They also try to use musical tunes and instruments that are common to the culture. Songs of worship are known as bhajans in Indian culture. Holding a Yeshu Satsang is a way to share Jesus' love with students within the context of their own Indian cultural tradition. Students are under a lot of stress to be successful in their studies. When they come to Satsang they are glad to have time to get peace, receive prayers, and spend time with others. This makes for a very unique meeting as followers of Jesus, Hindus, atheists, Jains, Sikhs, and Muslims meet together in the same small group. 
How Can I Form Friendships with Indians?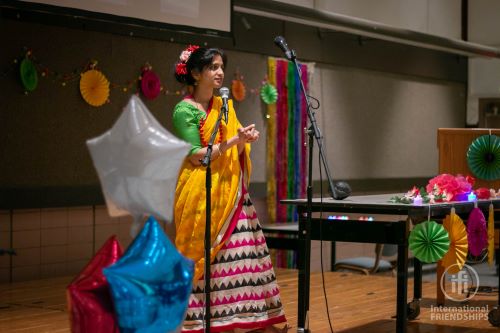 For Indian students, family, food, and festivals (The Three F's), are very important topics for them and good topics for conversation. Ask questions and show genuine interest in them and their lives. Besides The Three F's, most students are also fine with questions about their religion. Some questions you might ask are: 
Are you from a Hindu home?

Is your family devoted to a particular deity?

How does your family practice their Hinduism (or Jain, Sikh, etc)?

What types of goals do you have for your time in the USA?

What prayers would you appreciate when I pray for you?
Whatever you ask, be a learner and realize that there are many cultures within India as well as many languages. Even Hinduism, the primary religion, is not always practiced in the same way from family to family. Never assume that India is just one culture and in all cases of interacting with and getting to know students and scholars, it is wise to be aware and inform volunteers that the point of gatherings with students is to be culturally mindful and respectful of the beliefs of others. The hope is that this approach will cultivate mutual respect and offer the opportunity to talk about differences of belief on a deeper level! 
*Name changed for privacy
Click here to see more pictures from Columbus' IFI Holi party this year on Facebook!