For about two years, volunteers Daryl and Bobbi have housed Arab students in their home in Cleveland, Ohio, for up to six months. This may surprise volunteers who've never hosted Muslims long term, especially when they learn that Daryl fought in Iraq!
Daryl didn't start following Jesus until he came home from Iraq, but he believes God was working on him long before that. For example, Daryl majored in French in college. "Some of my best friends are guys from French-speaking African countries," Daryl says. He enjoys hanging out with Arabs and Muslims and employs Muslims in his construction company. "Islam is such an integral part of the Arab identity," Daryl comments, "that if you're Arab, you're Muslim."
Several years ago, Daryl and Bobbi took the Perspectives on World Missions course. During the final class, the facilitator encouraged class members to get involved in cross-cultural serving by inviting international students into their homes and lives. Daryl and Bobbi sensed God calling them to do this. Daryl's parents, who work with refugees, liked the idea. Bobbi's parents did, too, after they understood the couple's motivation and saw God's hand in it.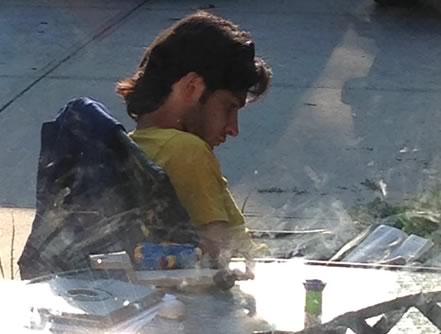 About hosting as cross-cultural service, Daryl says, "It's so natural. You talk at dinner. You ask questions about their country, their family back home, their religion. You enjoy each other. This is the easiest way to discuss faith and truth I know, but it has to begin with prayer. This is entirely the work of the Holy Spirit. If you don't pray, nothing happens. So we pray." Some of their students have been interested in Jesus, some not. "One guy told us as soon as we met, 'I want to explore Jesus.'"
Their guests study ESL (English as a second language) at a local university. "They are desperate to practice their English by living with an American family," Daryl says. A few have become like family. "One guy lives in Toledo now, but every other weekend he comes back. He loves our kids and our kids love him." Daryl observes, "If we're afraid [of Muslims], we're not loving these people. They need love!"
Daryl's advice to other volunteers: "Invite a bunch of Muslim students for dinner. See how normal they are. They're not fanatics. Their culture is very family oriented. They want to be with families. These guys remind me of myself at 21—concerned about looks, what others think of them, wanting to meet girls."

[box]IFI does not have a formal matching program for long-term housing. The families in this article responded as opportunities arose. [/box]