Phil Foell, besides being an ordained minister, has a BS in Management and Computer Science from Case Western Reserve University where he befriended many International students and frequently had them home for Thanksgiving, Christmas and Easter. Phil committed himself to the lifelong goal of reaching the nations at the 1987 Urbana Missions Conference. After graduating, he worked for 15 years for an international company where he was exposed to strategic plann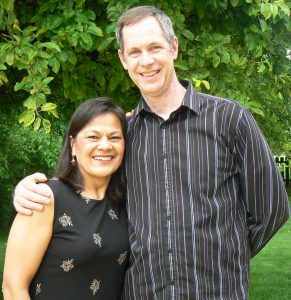 ing, leadership programs and process improvement initiatives such as 6 Sigma. While there, he was instrumental in recruiting, training, and managing a diverse team of Asian/Indian software developers by day, and working for the church by night and with a Chinese Bible study on the weekends. His interest in the nations has stirred him to lead half a dozen short term mission teams to China, Russia and Thailand. He has a passionate commitment to Jesus Christ and the desire to build the church through worship, fellowship, discipleship, service and outreach to the neighborhood and to the world.  He met his wife, Ellen, at their church in Cleveland Heights.  She received a J.D. degree from Case Western Reserve University and practiced law for many years, as well as spent 2 years as a missionary in Thailand. Her interests include missions, teaching and writing. She has written and taught Bible studies for many years and is a frequent speaker at conferences and Women's retreats. She continues to practice law and focuses on meeting local non-profits legal needs. She also loves to cook with, care for, and mentor international students.
Phil & Ellen have been married 24 years and have 4 beautiful children. Phil has a passion to extend the reach of IFI to new churches and new arenas. Phil has the gifting of a scribe and has been very helpful in carefully documenting staff meetings and improving the internal communication within the IFI staff. He is also involved in several networks around the city, always looking for opportunities to find new churches and individuals to partners with IFI. He works on building key relationships both within OSU and the surrounding community. As the Director of Strategic Events, Phil often finds himself working behind the scenes to help IFI plan large events, organize student trips, and plan training conferences that will benefit international students.  He is also heavily involved in the training of international interns that work at IFI. They are still in the process of funding their ministry and would sincerely appreciate your prayers and financial support.

Ways to Give to Phil & Ellen's Ministry
EASY GIVING: Give automatically through your bank account.

Use your bank's ONLINE BILL PAY or mail a check to:


International Friendships, Inc.
PO Box 82416
Columbus, OH 43202-0416

Please write "PHIL FOELL" on the check memo line or in the memo or account field in your online bill payer.

Credit Card online (see form on this page)