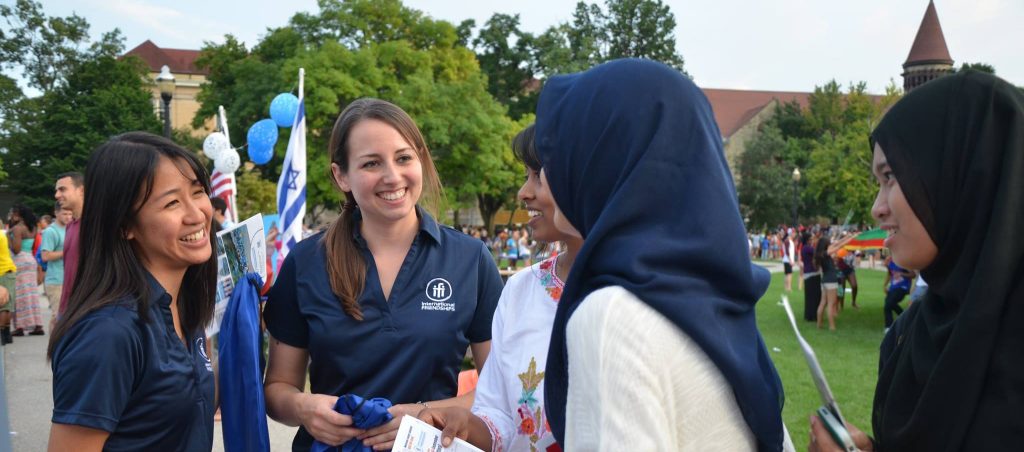 OUR MISSION:

To extend life-changing hospitality and friendship to international students out of reverence for Jesus
OUR VISION:

God's love extended globally in partnership with spiritually vibrant international students
International Friendships, Inc. is a Christian community group seeking to promote friendship and hospitality for international students. The students participating are from a variety of countries. Staff members work closely with volunteers from local churches to provide various services that address the social, cultural, and spiritual interests of international students. Our activities are open to students from all cultural and religious backgrounds.
International Friendships, Inc. began in 1979 in Columbus, Ohio. It is a, non-denominational organization dedicated to befriending, serving, sharing about Jesus, and discipling international students. A growing staff and volunteer network from many local churches in the area are reaching out to a variety of ethnic groups.
IFI also partners with affiliate organizations who share our vision and augments what we do. IFI respects the role of university officials engaged in serving international students and scholars. We strive to have a high level of integrity and responsibility in our interactions with university officials and with international students and scholars. We adhere to the NAFSA: Association of International Educators Statement of Ethical Principles in our ministry to international students and scholars.
Our Strategic Approach
to Mobilize and equip believers in the context of the local church
to Serve international students, scholars, and their families with the unconditional love of Christ through hospitality and friendship
to Provide students opportunities to learn about Jesus
to Invite students who are interested to make a decision to follow him
to Disciple students to obey Jesus and become disciple-makers
and to Partner with current and former students to extend God's love globally