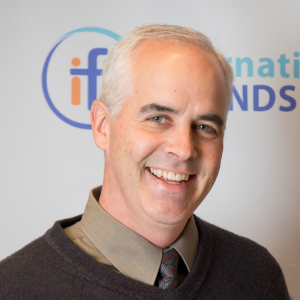 Thomas "Scott" Holahan – was born and raised in Rochester, NY and developed his faith inside the Catholic Church during his Youth. He attended and graduated from The Ohio State University in 1992 with a Bachelors in Industrial and Systems Engineering. He recently "semi-retired" from the Corporate world after more than 26 years at AT&T, Lucent, and Nokia. Scott successfully held many Operations assignments such as Manufacturing and Product Development Engineer, Project/Program Manager, Business Analyst, and Human Resource/Communications Manager. He also has a Masters Degree in Industrial Engineering from Purdue University.
Scott rededicated his life to Christ in 1997 and has served as Life Group Leader, Connections Team Leader, Children and Adult Sunday School Teacher, Deacon and Elder at Discover Christian Church in Dublin. Scott considers himself a life-long learner and constantly reads scripture. He also improves his communications and leadership capabilities through Project Management Professional certifications since 2007 and Toastmasters since 2012. Scott was a Golf Coach at Tree of Life Christian school from 2004-2018 and received several awards for his service at the School, League and District levels.
Scott's wife, Carin, has been an integral part of his family partnering with IFI.   They started volunteering with IFI in 2017, and hosted a Korean Student, Hyoeun, at their home for about 2-3 weeks.  They acclimated her to Columbus and got her moved into her dorm on The Ohio State University campus.  In November 2018, Scott's corporate assignment started to come to an end and his wife asked him to look into IFI.
One week after his last day at Nokia, Rich Mendola (Executive Director of IFI) contacted Scott about the COO position.  Over the next couple months, Rich and Scott together sought his calling together culminating in a May 1, 2019 start date.  Scott will support National Operations and the Directors of HR, IT, Finance, Facilities, and Communications.  Scott is striving to continue his IFI assignment longer term.  To accomplish this goal, he needs monthly supporters to join him so he can focus on developing policies, procedures, and strategic planning in support of IFI's mission and vision to reach international students. To make an appointment with Scott, click on his calendar here.
Scott currently lives in Gahanna, OH with his wife, Carin, and they have 2 Young Adult children, Allison and Brendan.