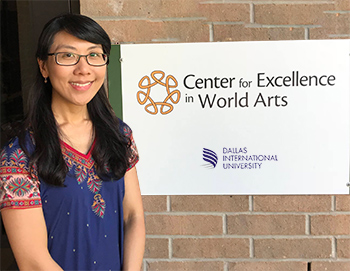 God has given Dora the passion for campus ministry and cross-cultural mission since her college years. Hoping to be cross-culturally equipped, she chose ethnomusicology as her field of PhD study at the Ohio State University after completing her master's in piano performance at Manhattan School of Music. Since the age of 14, Dora has been serving God with her music talent in the church.
God largely transformed Dora's life through a student fellowship when she was an undergrad student in Taiwan, her home country. After coming to the US, God continually shaped her to be a disciple and worker of His through local church ministry and international student ministry, which includes an internship program of IFI.
Since 2010, Dora has been leading/facilitating Bible studies and 1-on-1 discipleships as a mentor to many young people. She is deeply convinced that the greatest joy on earth is to witness lives changed by God, and the greatest reward is the privilege to work with Him and become a part of these life-changing stories. Dora is drawn especially to Indian culture and has a special desire to share the good news of Jesus with Indian students.
Dora believes that God has called her to be "a heavenly musician," who, like fishers of men (Mat 4:19; Mar 1:17), sings His songs of salvation to all peoples. With 2 Tim 2:15 and Rom 12:1, God called her into full-time ministry.
Dora currently serves as an assistant professor at Dallas International University, where she trains cross-cultural missionaries in the area of ethnodoxology — a movement calling all peoples and ethnicities to worship the God in the Bible using their heart languages and culturally appropriate expressions. Dora desires all nations, tribes, peoples, and tongues to know Him and worship Him both biblically and culturally. Based out of Dallas, TX, Dora also serves the international students in the DFW area.