Equipping workers to serve, evangelize, disciple, and train international students on American campuses
Apply Now!

Program Goals
The International Student Ministry Apprenticeship Program (ISMAP) is a one-year learning experience with International Friendships, Inc. (IFI), Columbus, one of the largest campus- and community-based ministries to international students in the United States.
Apprentices:
Learn what international student ministry (ISM) entails
Develop ministry skills
Gain experience to become effective ISM workers on a current team or join a new ministry team
Pray for vision to pioneer ISM on new campuses
Program Distinctives
Focusing on cross-cultural ministry skills
Applying principles — not how-to "recipes"– to ministry opportunities
Learning through discussion-oriented seminars, one-on-one mentoring, and hands-on experiences
Developing a God-guided personal ministry and ministry style
Encouraging self-discipline to become a responsible and productive worker
Waiting on God to learn where He will lead next
Program Content Includes
Cross-cultural communication and sensitivity
Spiritual leadership and team building
Evangelism and discipleship
Small group dynamics
Interpersonal relationship skills
Recruiting and training volunteers
University-ministry relations
Balance in ministry
Financial and prayer support development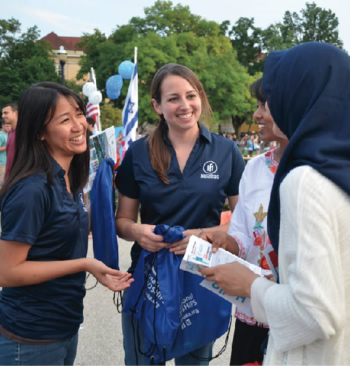 ISMAP is designed to develop workers who can…
Welcome international students to American campuses
Show students Christ incarnationally
Help them learn American culture
Help students see their need for Christ
Help students meet Christ personally and grow in Him
Disciple students who can make Christ known among the nations
Program FAQs
American and international Christians who
have an undergraduate degree or are in Bible college
speak and write English well
feel called to ISM and want to learn how to do it
are eager to grow in cross-cultural sensitivity
This one-year program runs July 1 through June 30
Coordinate hospitality for the students
Help students settle into off-campus housing
Follow up on new contacts
Join English Conversation Club
Co-lead evangelistic and discipleship Bible discussion groups
Plan and run special events
Meet one on one with internationals
Have a personal staff ministry mentor
Apply Now!
Cost:
Participants raise $1250 – $1800/month to pay for ministry and living expenses
Requirements:
You will need to submit:

Download and complete application form
A 500-600 word essay outlining why you are applying, what knowledge and skills you will bring to the program, and how the apprenticeship will support your ministry goals.

Application Deadline:
January 1 for the following July
Contact
Russ Sermon, ISMAP Director
International Friendships, Inc.
2500 North High Street, Suite 200
Columbus, OH 43202