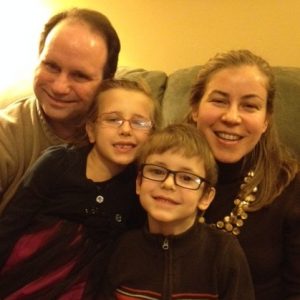 Russ Sermon, English as a Second Language class leader –
Rebecca Sermon, International Wives' Group volunteer leader –
Russ has an AA from Century College in White Bear Lake, MN; a BA in Cross-Cultural Communications from North Central University in Minneapolis, MN; and an MA in TESOL (Teaching English as a Second Language) from The University of Maryland–Baltimore County.
He has worked with university and international students for over 27 years at the University of Minnesota, Minneapolis; the University of Washington, Seattle; Virginia Tech; American University; George Mason University; the University of Maryland–Baltimore County; and the University of Maryland–College Park.  He lived in Cornwall, England, for a year as a Bible teacher, traveled to Chile to work with university students, and spent three weeks in China as a TESOL teacher.
Rebecca graduated from Knox College with a BA in European Studies.  Shortly after graduating, she went to Russia to teach English and Biblical ethics.  She worked in Russia and Russian-speaking Central Asia for almost seven years.  She is a gifted teacher and loves learning about and meeting people from other lands.
Russ married his lovely wife, Rebecca, in July 2004.  Together, they lived in Kazakhstan, where he was a TESOL teacher.  They began working with IFI in December 2007.
Russ leads a weekly investigative Bible study.  He also leads the English Conversation Club, which provides opportunity for international students to practice their English and make American friends.
Rebecca leads the IFI International Wives' Group as a volunteer, a social and investigative Bible study group for wives of students and visiting scholars.  She also supplies hospitality to the many international students who visit our home.