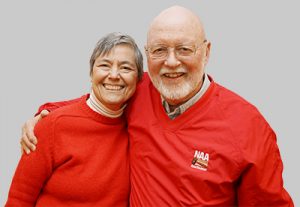 Drs. David and Carol Kunselman have recently returned from Staff and Volunteer training in Columbus, (January, 2017). They are very enthusiastic in building a Team of Volunteers, (and eventually staff), for Lubbock, Texas IFI.
David is an ordained minister, serving the Lord first in Australia, then in various locations in the U.S. He was also a Development Officer with Wycliffe Bible Translators. His doctorate is in Mentorship – and his long-term goal is to have a year-long program for post-graduate international students who are Christ-Followers prior to their return home.
Carol is an Associate Professor of Ob-Gyn at Texas Tech University School of Medicine. As such, she has mentored many international, resident doctors for the last 18 years.
David and Carol launched their volunteer work in Lubbock on January 20, 2017 – Inaguration Day – with 26 close friends, pastors, and advisors.
David and Carol know that Tech has 3000+ International Students from 108 countries. Lubbock Christian University and Wayland Baptist University, also in Lubbock – have many more.
With over 200 churches in Lubbock, the hope is that Lubbock IFI will soon have hundreds, then thousands, of volunteers from partner churches – to open their hearts and their homes to International Students and Professionals in this new area for IFI.
Thank you for your prayers.
David can be contacted in Lubbock at: (806) 782-7926
Ways to Give to the Kunselman's Ministry
EASY GIVING: Give automatically through your bank account.

Use your bank's ONLINE BILL PAY or mail a check to:


International Friendships, Inc.
PO Box 82416
Columbus, OH 43202-0416

Please write "KUNSELMAN" on the check memo line or in the memo or account field in your online bill payer.

Credit Card online (see form on this page)